September 28th, 2006
September 23rd, 2006
Six-secret update. Trying to get into a Saturday and Thursday update rhythm. Wednesday makes things more easily spaced, but I secretly like Thursdays more.
Oh shit. Should've put it on an index card.
http://www.thesecretdrawersociety.net
September 17th, 2006
Um, someone slipped a secret under my dormroom door about an hour ago. So I did a secrets
update
.
I'm going to try to get on a more regular secrets-updating schedule. But, you know, the odds of that happening are not great.
September 13th, 2006
Um. We've been
StumbleUpon
ed. And
del.icio.us
'd.
Thanks, guys, and please keep it up, because it creeps the Hell out of me, and I like it.
Um. It's three hours into Wednesday. We have had more than 450 pageloads today. I am a little bit terrified.
But, uh, I'll take advantage of that for a secrets update.
http://www.thesecretdrawersociety.net
Not that you guys need to be told, apparently.
Also, recently we've been recieving secrets in formats that the site is not meant to publish. Please, please, please view the galleries. Secrets freed in that manner are what we are looking for. Specifically, we are interested in photographs of your written-down secret, which has been placed in a public area.
Again, if you are unable to free your own secret, or to document it and you want us to, you can mail them to
400 The Fenway
Box 2710
Boston, MA 02115
USA
September 8th, 2006
Check the
web-site
! (Clap clap clap-clap-clap.) Not all depress-ing. (Clap clap clap-clap-clap.)
August 25th, 2006
I just updated
the site
with a bunch of finds from the Trip of Insanity. There are also some new secrets up. Keep them coming.
August 19th, 2006
I just added a second secrets gallery to the site. Please keep the secrets coming. Also, we're interested in hearing from people who have sent us secrets. What did it mean to you to let that secret go? Jonny and I are already writing ours up. It's possible that I'm crying a little.
So, your to-do list:
1. visit
the site
and view the new secrets
2. Write up, free, and submit your secrets
3. Tell us what it is like to start letting go of these things.
August 15th, 2006
Someone asked me what, exactly goes into a secret-making party. Here are the elements jonny and I encorporate when introducing the concept to people.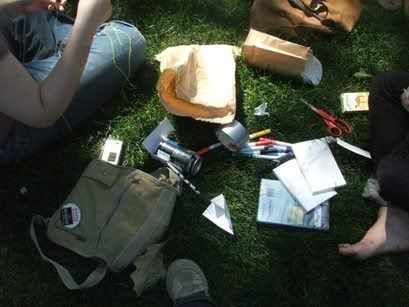 Logistics and Rules
:
-First, get some good friends. People you know intimately, people you don't know well, but people with whom you are comfortable and people you believe to be respectful.
-The ground rule that we use is that no one has to share secrets. There is also no peeking. People are encouraged to hold their secrets up as they finish and say whatever they want about them, but
no one is allowed to intrude on someone else's privacy.
We free secrets in our own time. Sometimes people jsut read their secrets. Sometimes they explain about them. Sometimes they hide them in the not-to-share pile. Sometimes they cry a little.
-Following up on the piles, we sometimes make two piles: one face-down of secrets that aren't going to be looked at, and another face-up that people can go through and talk about if they want. If you know whose secret it is, you are not allowed to tell or hint.
-Next big rule is that
everyone has secrets
. You will have people who try to tell you that they do not have secrets. These people are liars. Boring liars. Show them the site. Everyone has things that they don't talk about. They don't have to be absolute secrets, but they have to be things that people keep gaurded, or that give them a squirmy feeling in the pit of their tum. These are secrets. The things that are important to us that we don't let other know. The things that keep us up at night, that we only hint at with our best friends. Secrets are the things we wish someone else knew, or would die if someone else knew them but we know (secretly?) that we need to get them out.
Where
:
-Somewhere semi-private, with lots of corners in case people want to retreat to work on their secrets.
-Music is nice. Food is even better. But I'm just a fatty. It's a fun process. We call them secret-making parties for a reason.
Have fun
.
Making the secrets
:
-jonny and I like to provide a bunch of 4x6 index cards. They're a nice size, without being intimidating.
-Access to a typewriter or computer is nice, too.
-You need markers. You need coloured pencils. You need sissors, glue, tape. You need scraps of fabric, and construction paper. Or maybe you don't need any of these things. Maybe you just want your secrets to be stark on the page. But sometimes a piece of cloth of something brings up a memory, and sometimes embellishment drives the point home.
Freeing secrets
:
-Sometimes people want to free their own secrets. Sometimes they are totally done with them once they are written down. As the super-fantastic secret-making party organiser, you might give people the option of giving you their secrets and allowing you to hang, photograph, and send them in.
-Or you can put them all in an envelope and send them to me.
el//400 the Fenway// Box 331// Boston, MA 02115
. We'll send you something if you do this. Because I like getting mail.
This is a fun activity for right before everyone leaves for college, or when you are back in the dorms and classes haven't started yet. It's fun anytime, really. And you don't have to listen to us on how amazing a freeing the process is. Do it yourself.
heart.
PS: I'm holding out for a few more secrets before I add another gallery to the
site
. Help me out and I'll love you forever.
PPS: Look at me, I'm nearly tame.